FREE Evaluation & Consultaion
Find The Value Of Your Home Today. Free Local Service and NO OBLIGATION!
I am happy to provide a free home evaluation to help you determine the value of your house, condo, duplex, triplex, fourplex or townhouse if you sell your real estate in Vancouver.
A comparative market analysis is an indicator of what today's buyers are willing to pay for your home. It compares the market activity of homes similar to yours in your neighborhood. Those that have recently SOLD represent what buyers are willing to pay. The Vancouver homes or condos currently LISTED for sale represent the price sellers hope to obtain. And those listings that have EXPIRED were generally overpriced or poorly marketed.
All information you provide is secure and will be kept strictly confidential. No hassles, no strings and no obligation! Please indicate when you are thinking of selling your real estate and if you are moving or relocating outside Greater Vancouver.
To find a Realtor in Vancouver, for a free home evaluation just call to Oleg at 604-719-4490 or send your request by email at [email protected]
The Benefits of Pricing Right
Your home doesn't lose its "marketability."

The closer to market value, the higher the offers.

A well-priced property can generate competing offers.

Your property sells faster, because it is exposed to more qualified buyers.

Real Estate Professionals will be enthusiastic about presenting your property to buyers.
In addition to the huge savings here are some other benefits of my team:
We always fight for your best interest!

We have hundreds prospective buyers in our database

We have strong negotiation skills and can save you money

We have great results with first-time and out-of-country buyers

We are Vancouver and Canada Real Estate Association Members

We list your home on the Vancouver Multiple Listing Service (MLS)

We are honest, reliable professionals. We really care about our clients

We always answer your calls, always available to help you with your needs

We keep you advised of market condition and competitive sales in your area

We will display your property on real estate portals mls.ca, oleghomes.ca, reatlylink.org

We own a website

www.oleghomes.ca

, www.ru.oleghomes.ca and www.calloleg.com which ranks high on Google, Yahoo and other websites
Your Realtor in Vancouver,
Oleg Tsaryov
The process of selling your real estate in Greater Vancouver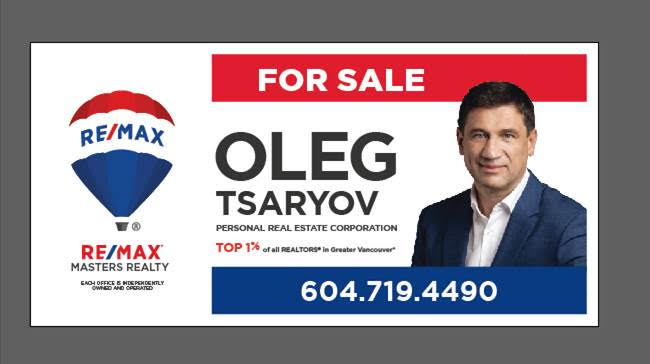 <Vancouver homes>. <sell condos in Vancouver>. <West Vancouver Real Estate>. <Luxury Properties>. <Waterfront>. <Homes For Sale>.