Home Inventory Rising in Greater Vancouver – But So Are Prices
August 17, 2017
---
Majority of homes still selling above list price, despite continued slide in transaction numbers

Of the 274 homes sold in the Greater Vancouver board region last week, 155 went for more than their asking price, our weekly #REWCAP market roundup reveals.
This is despite sales the same week (July 31-August 6, registered sold as of August 10) slowing considerably on week-by-week and month-by-month basis, as the warm weather kept potential buyers at bay.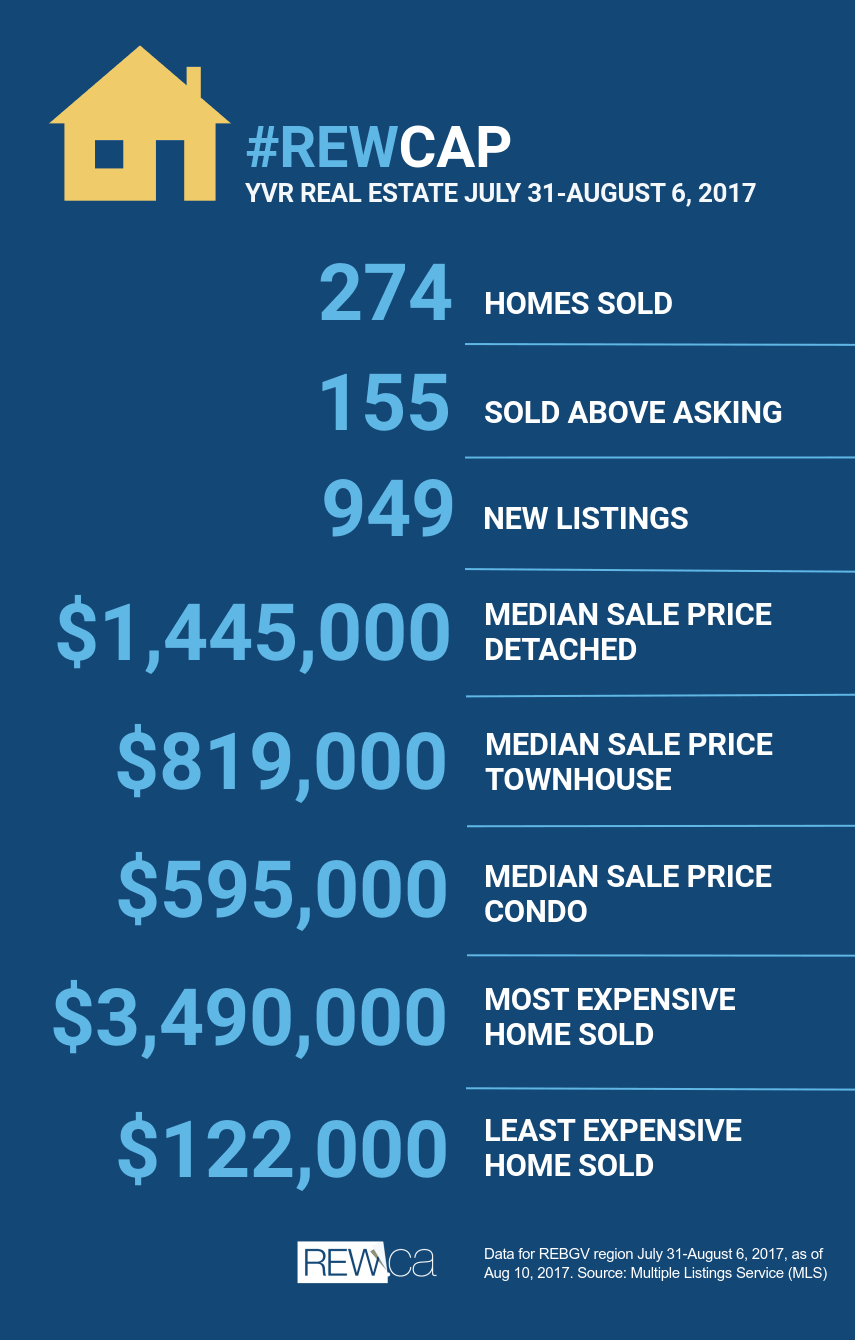 Sellers also continued to sit on the sidelines, with new listings coming on the market in the same week dropping below the 1,000 mark.
Despite the lower numbers of newly marketed homes, overall resale inventory is rising because of the even slower sales. As of August 10, there were 9,162 active home listings on the Greater Vancouver Multiple Listing Service® - compared with 8,515 as of the end of June and 8,168 at the end of May.
This increased choice for buyers has not dampened prices, with median sale prices in all three home categories this week higher than last week, and a larger proportion of homes (56.6% versus 53%) selling for over asking price.
Looking at condos, 62% of the 175 homes to sell last week exchanged hands for more than their sticker price. The median sale price was $595,000.
Townhouses (including half-duplexes and row homes) also saw an increased median selling price at more than $800,000.
In fact, the most expensive home to sell in the Greater Vancouver region the week of July 31-August 6 was a townhome – a luxurious waterfront Yaletown unit that sold for $3,490,000,
The detached home market continued to plod along, with 56 home sales across the entire Greater Vancouver region last week, 25 of which were sold above asking price. The priciest detached house to sell that week, registered as of August 10, was a beautiful heritage-style, 2003-built house in MacKenzie Heights on the West Side, which sold for $3,410,000.
All information kindly provided by rew.ca

---